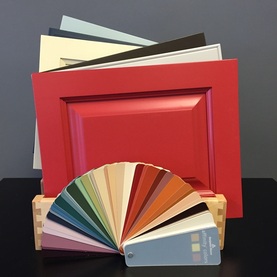 What color is your personality? Is it "Fancy Pants", or maybe "Head over Heels"? Color is the heartbeat of creativity. Color can define a mood, a feeling or even a kitchen! So why not bring color into your kitchen? How would you like to have an island that is your perfect shade of blue? Or have your master bath cabinets as green as a "Peaceful Garden"? Maybe your kitchen is "Man on the Moon". A kitchen remodel can be fun! Cape Ann Kitchens offers the opportunity to customize your kitchen in way that can truly reveal your personality. Pick a color, any color! Cuisimax, one of our most popular cabinet lines, will develop the color of your choice using advanced paint technology to produce cabinets with an impeccable finish. So the next time you are looking through the Benjamin Moore color fan, imagine one of those beautiful colors on your new kitchen cabinets!

In the spirit of Spring, we will waive the custom color development fee with the purchase of your kitchen by June 30th.


"Wild Blue Yonder", "Fancy Pants", "Head over Heels", "Peaceful Garden" and "Man on the Moon" are all Benjamin Moore paint colors.