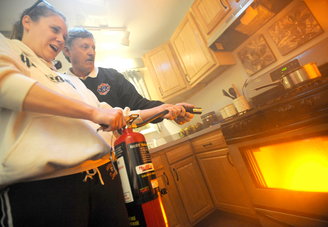 Nothing is more comforting than a warm crackling fire during the winter, as long as it's in the fireplace of course. Unfortunately, during the holiday season, there is a much higher chance that a fire will break out by accident. With all the stress of entertaining, shopping, decorating, and cooking, it's easy to forget what is in the oven or on the stove top. Keep yourself, your family, and your home safe this holiday by reading up on these tips!

Kitchen Decorating
It's very important to be mindful when decorating your kitchen! Avoid hanging anything near the oven & stove top where open flames will make quick work of your decorations and home. Also, it is best to leave out the candles as they can easily be knocked over while cooking.

Keep an Eye on the Stove
Multi-tasking is great but cooking should be the exception. Too many things can go wrong if you leave the stove unattended. If you start cooking something, be sure you can be in the house or kitchen throughout the duration. If you have to leave, turn the stove off before you go.

Avoid Distractions While Cooking
With all your friends and family gathered around, you may wish you could just be entertaining them instead of being stuck in the kitchen. Don't lose focus on keeping an eye on the kitchen. The safety of you, & your family and friends is what's important.

Wear Proper Kitchen Attire
Of course, you want to look your best, but somethings are best left out of the kitchen such as free-flowing hair and loose clothing & accessories. If you have long hair tie it back. Long sleeves should be rolled up. Avoid wearing things such as scarves which could easily catch on fire, or skirts that swish around freely.

Baking Soda!
Be sure to keep plenty of baking soda close at hand in case a grease fire does happen to break out! Avoid using water as it will only make the problem worse!