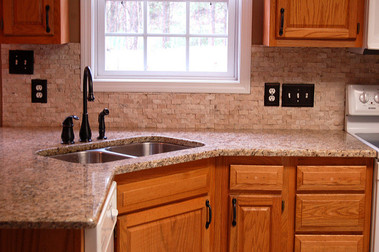 If you are remodeling your kitchen or just replacing your counter tops, then you've seen just how many options there are for building material. Depending on how you use your kitchen, some materials may not stand up to the rigor they are put through. Before choosing your kitchen countertop material, learn about the many popular kinds and what their pros and cons are!
Granite
Pros: Granite comes in various color and patterns naturally, so every piece is one of a kind. It stand up to water, heat, knives, and other wear and tear.

Cons: It must be sealed every so often to avoid stains. It is also heavy and will require sturdy cabinets to hold up.

Solid Surfacing
Pros: A non-porous material that does not require special maintenance or cleaning. It comes in many different styles and colors.

Cons: Solid surfacing can give your kitchen an artificial look and feel and can be as expensive as stone. It does not stand up to knives and heat as well as other materials, although cuts and burns can be sanded down.

Quartz
Pros: Quartz does not require special cleaning or maintenance. It also comes in many more styles and colors than natural stone.

Cons: Although it almost looks like stone, it does not have that natural look. Quartz can be pricey but it's durability makes up for it.

Marble
Pros: Hailed for it's timeless beauty and functionality. Marble stands up to heat and is great if you like to bake your own pastries, because it stays cool year-round.

Cons: The bad thing about marble is that it can stain relatively easily even with sealing. It is also susceptible to scratches and chips. Consider limiting your use of marble to only one or two areas.

Tile
Pros: Tile is inexpensive and fairly easy to replace should one crack or break. It comes in a wide variety of colors and patterns. It resists knives, heat, and stains.

Cons: If you cook often, the uneven surface can make it difficult to balance a cutting board or to roll out dough on. If the grout is unsealed it can stain and develop bacteria.

Laminate
Pros: Laminate is a very affordable material for those on a budget. It is also easy to maintain and clean!

Cons: It can be easy to burn and to scratch. Over time the layers can peel and fixing the damage can be difficult to do. Also, due to its particle board core, under mount sinks cannot be used.