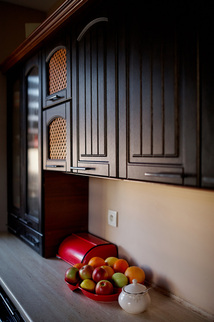 From light dusting to cleaning up a full-blown mess, you can maintain the beauty of your custom kitchen cabinets with these tips on cleaning them.
General Cleaning
With many spills and messes, a soft damp cloth is enough to clean your cabinets if done immediately. If the stain persists, or has set for some time, use a simple solution of warm water and mild hand or dishwashing liquid. After cleaning with a damp cloth, wipe all surfaces down with dry cloth, making sure not to leave any moisture behind.
Products to Stay Away From
Harsh detergents & soaps, tub and sink cleansers, scouring powder & pads, steel wool or self-polishing waxes.

Used sponges or dish cloths because they may contain bits of food, oil residue, or remnants of harsh cleaning solutions that will damage your cabinets.

Solvent or petroleum based products such as mineral spirits, nail-polish removers or paint thinners.

Cleaning products that contain bleach or ammonia

Silicone-based cleaning, waxing, or polishing products.

Tips
Wax or Polish should never be used. These products can build up on your cabinets over time and cause a discoloration or hazy appearance.
Cabinets with glass should be cleaned with an ammonia free glass cleaner to keep from damaging the rest of the cabinet.
Always wipe up moisture with soft, dry, clean cloth because it can inflict permanent damage on your cabinets.
When dusting, simply use a soft lint-free cotton cloth. Stay away from pre-moistened dusting sheets and aerosol dusting products.